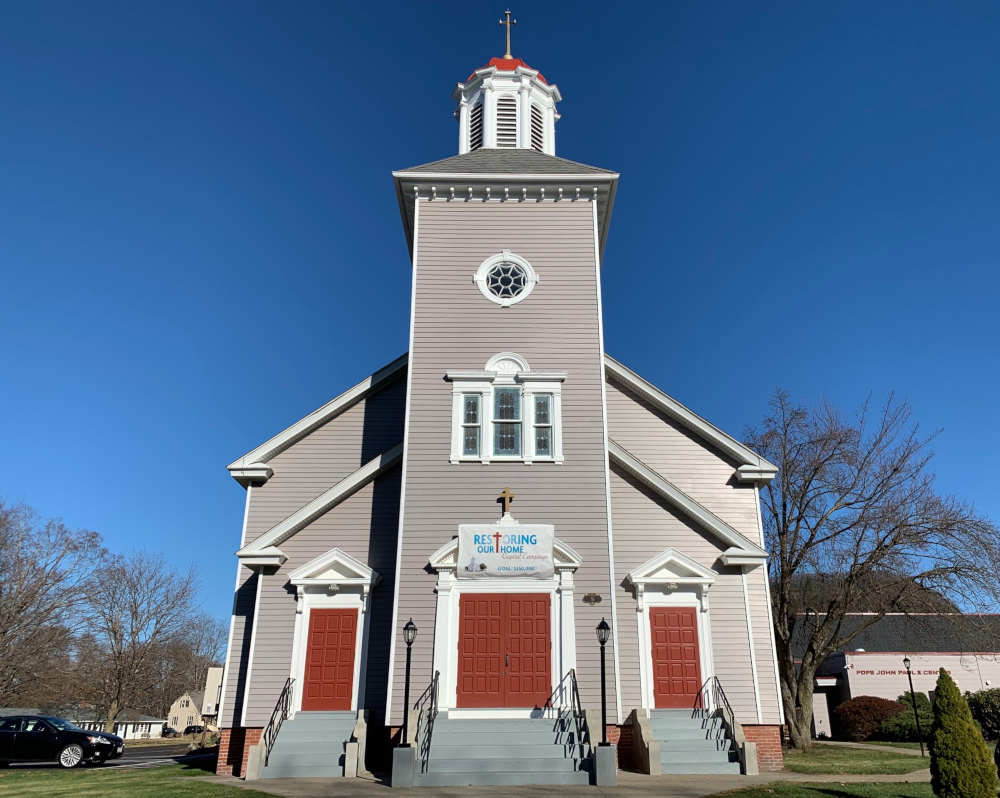 Join Us
Visitors are always welcome to join us for Mass or Confession.
Mass Schedule
Normal Mass & Confession times are suspended due to COVID-19 until further notice.
Vigil (Saturday) 4pm
Sunday 8am and 10:30am
See our complete Liturgy Schedule for all Mass and Confession times.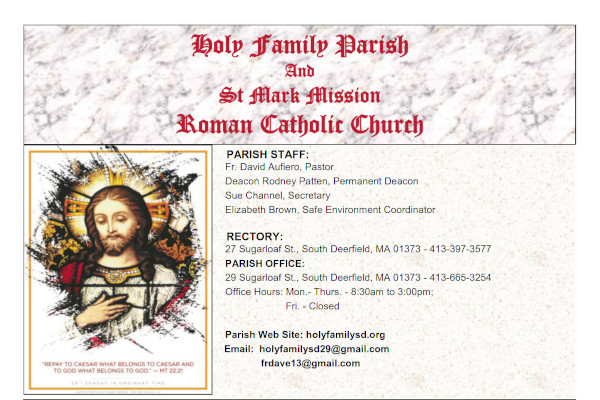 Bulletins & Homilies
Stay up to date with our newest parish bulletin.
Faith & Fitness Challenge!
Join us in combining excercise to prayer – let's get spiritually and physically healthier!
COVID-19 / Corona Virus Information
Watch here and on Facebook for updates concerning the virus and how it affects the people and events of the parish and diocese.
COVID-19 Updated Diocesan Policy (as of May 18)
JMJ
Dear friends,
WE ARE OPEN!!! Beginning this Saturday May 23rd at the 4pm Mass … WE ARE OPEN!!! Thanks be to GOD!!!
I wanted to alert you to some of the guidelines that will be in place so that you will not be caught off guard. You can read the complete Diocesan directives for reopening at http://diospringfield.org/directives-for-confronting-the-coronavirus/
Expect the following when you come to Mass:
40% church capacity will be allowed to attend with social distance seating. For us, we will be able to accommodate 50 people.
Each parishioner must sit 6ft apart from one another (X's are clearly marked on the pews to indicate where an individual may sit). Families may sit together.
Masks will be required (we may have some available, if needed)
Holy Water fonts will remain empty
There will not be a sign of peace
There will be no distribution of Precious Blood (Communion by the auxiliary chalices).
The general dispensation to attend Sunday Mass will be extended until we are in the clear and back to "business as usual".
The church must be cleaned and disinfected between each Mass as well as bathrooms. (I will need some volunteers after each Mass to assist with cleaning, please let me know if you are able).
Since our max capacity right now is 50 people, I have decided to add 2 extra Masses to accommodate as many people as possible. The Mass schedule will be as follows: Saturday 4pm and 5:30pm; Sunday 7am, 8am, and 10:30am. It is a first come, first serve basis. Please do not be upset if you don't "make the cut". Simply try again or watch Mass on TV. I know it is not ideal but we will get through it if we remain calm and respectful of one another.
We will still be doing Facebook live daily and on Sunday 10:30am we will be on Facebook live as well as the local channel FCAT.
Confessions will be offered on Wednesdays 5-5:50pm and Saturdays 3-3:45pm in the parish hall beginning this Saturday, May 23rd.
Wednesday adoration has returned to the church from 12pm-6pm (with benediction at 6pm). Please maintain social distance and sit at the marked pews.
The church, hall and bathrooms will all be professionally cleaned & disinfected twice per week to maintain safety and sanitary conditions.
I am so happy to be back in action and I cannot wait to see you all in person!!
Fr. Jon
5,000,000 Rosaries!
Join others around the world in offering a spiritual bouquet of 5 million rosaries in 2020, especially during this epidemic.
Get more information or sign up at:
Coffee with FJ
New episodes Friday mornings!
Episode 6, May 29

Watch Mass Online
Mass Schedule:
Mon-Thurs: 8am
Saturday: 12pm
Sunday: 9am (Facebook & Local Access TV)
Mass from May 28 (Thursday):
The heart of a parish is the Eucharist,
but the parish family is the body that makes it a unique and vibrant community with an exciting parish life. Our parish offers a variety of ways to be part of that communal family in addition to the celebration of the sacraments.
Our Renovation
See photos of Holy Family Church's transformation, and the fantastic results!
Sacraments and Worship
Through the Sacraments, God gives us His Life, enabling our ultimate happiness and the eternal reward of Heaven. In return for this great gift, we give Him worship.