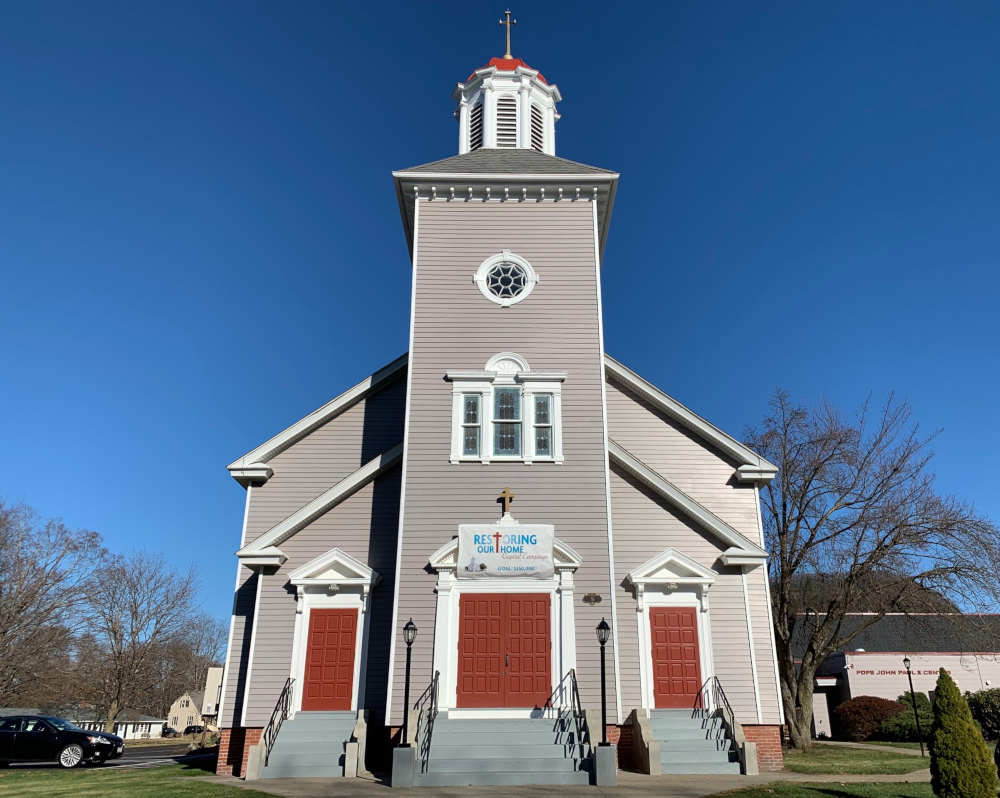 Join Us
Visitors are always welcome to join us for Mass or Confession.
Mass Schedule
Normal Mass & Confession times are suspended due to COVID-19 until further notice.
Vigil (Saturday) 4pm
Sunday 8am and 10:30am
See our complete Liturgy Schedule for all Mass and Confession times.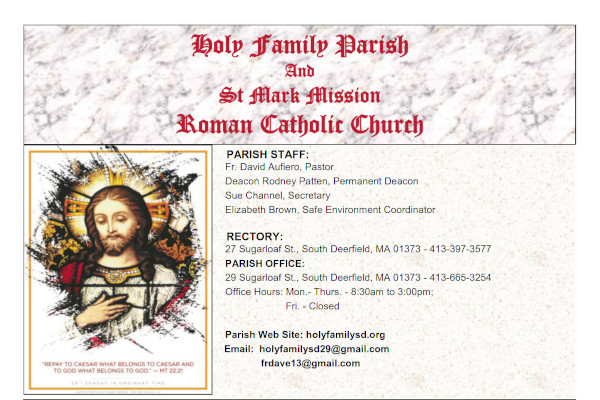 Bulletins & Homilies
Stay up to date with our newest parish bulletin.
COVID-19 / Corona Virus Alerts
Watch here and on Facebook for updates concerning the virus and how it affects the people and events of the parish and diocese.
Parish Updates
Take and Eat Ministry – there will be another meal April 4th. Please contact the office if you or someone you know needs a hot meal.
We are continuing adoration on Wednesdays 12pm-6pm. Benediction at 6pm. Please stay in your cars.
The Tabernacle is located in the parish hall window for public, private prayer 24/7. Please stay in your cars. Come anytime to pray!
Confession is offered on Wednesday's 5pm-6pm and Saturday's 3pm-4pm. Drive thru only, please stay in your car.
Watch Mass Online
While Masses are canceled in the Diocese, Masses will be broadcast live on the Holy Family Facebook page each day as well as on local access TV on Sunday.
Although you cannot attend Mass personally, it is good to pray along as you watch and make a spiritual communion. Let's remember to pray with and for each other in a special way during this time, and know that I am remembering all of you each time I offer the Holy Sacrifice.
– Fr. Jon Reardon
Mass Schedule:
Monday, March 30 – Friday, April 3: 8am
Saturday, April 4: 12pm
Palm Sunday, April 5: 9am
Monday, April 6 – Wednesday, April 8: 8am
Holy Thursday, April 9: 7pm
Good Friday, April 10: Liturgy, 3pm; Stations of the Cross 7pm
Easter Vigil, April 11: 8pm
Easter Sunday, April 12: 9am
This Mass is from April 1:
COVID-19 Updated Diocesan Directive (March 17)
Dear Friends,
Bishop Rozanski has mandated the closing of all churches, chapels and oratories effective March 17, 2020, until further notice.
This means that our scheduled adoration of the Blessed Sacrament, held on Wednesdays, is hereby canceled. During this most unusual time, Holy Family Parish will operate under the following schedule:
Mass will be broadcast live on the Holy Family Facebook page each day and available later in the day on our website. Watch our page for times.
March 18-20 Mass will be at 8am on Facebook.
Office Hours: 8:30am – 12pm; Monday – Thursday.
Confession: Wednesday 5pm-6pm; Saturday 3pm-4pm
Should you need anything, or in case of an emergency, please call the rectory at 413-397-3577 or email me personally: fatherjon2008@gmail.com
Thank you and God bless you!
Fr. Jon
(To read the updated directive, see http://diospringfield.org/directives-for-confronting-the-coronavirus/)
The heart of a parish is the Eucharist,
but the parish family is the body that makes it a unique and vibrant community with an exciting parish life. Our parish offers a variety of ways to be part of that communal family in addition to the celebration of the sacraments.
Our Renovation
See photos of Holy Family Church's transformation, and the fantastic results!
Sacraments and Worship
Through the Sacraments, God gives us His Life, enabling our ultimate happiness and the eternal reward of Heaven. In return for this great gift, we give Him worship.