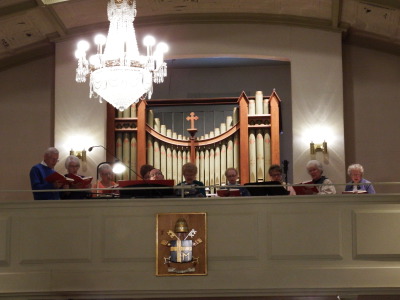 Mission Statement:
We are St. Cecelia's Choir of Holy Family Parish in South Deerfield. We are committed to enhancing the celebration of the Mass through music and song and engaging our parishioners to join us in the celebration of the Holy Eucharist.
Do you like to sing? If the answer is yes, you should consider joining St. Cecelia's Choir. We are a group that gathers once a week for approximately one hour, it's not a hard and fast rule that you attend every week, we are all here because we enjoy singing and consider singing a form of prayer.
We have members of all ages and backgrounds; two of our members have been active in the choir for over 70 years and still enjoy singing.  You don't need to think your voice isn't good enough, we all blend together to make a great choir and have fun singing together, it's a wonderful way to celebrate the Mass and get to know other  members of our  parish.