December 8, 2020 marked the 150th anniversary of Blessed Pope Pius IX's declaration of St. Joseph as the patron saint of the universal Church. It also marked the day on which Pope Francis declared this special year in his honor – and hence the reason for these few bulletin articles on the topic. Blessed Pius recognized the Church's need for Joseph's intercession in his own time. In the latter part of the 19th century, the Church was beginning to see the rise of modernism and the loss of her political influence and protectors. The Holy Father felt the need to call out to Joseph to protect the Church from external persecutions of the increasingly secular world.


Exactly 150 years later, do we not see how right he was? The Church today is, perhaps, even more persecuted, struggling to combat not just modernism but also that of subjective morality, a loss not only in a political influence but now also in a spiritual influence over her members. St. Joseph stands among us today as the great protector. He was given the task of protecting Jesus and Mary from the dangers of the world – especially the politically powerful and those who sought the life of his foster child. This is where I see his influence to be truly the most powerful – in defense of life. Joseph not only helps us to overcome the fear to welcome life but also to defend the sanctity of life. Joseph helps us to defend even our own spiritual lives that threaten to distract us from God, from Truth, morals, virtue and holiness. His influence and intercession helps us to navigate the dangers of the world in order that we might hear God's voice and obey His commands and directives. God trusted Joseph to protect His family. In like manner, we ought to trust him with our own lives, that we too might be able to see the way that leads to God's heart and walk that path with confidence and faith.


This year, we will celebrate the Solemnity of St. Joseph on Friday March 19, 2021. Since it is a solemnity, you do not have to observe your Lenten sacrifices and penances on this day (as well as on the Solemnity of the Annunciation, March 25th). It is still, however, a Friday in Lent and therefore we must stick to "abstinence from meat" on this day. Yet, in honor of this great saint, celebrate appropriately!
Our Choir Director, Jamie Goodnow, is celebrating 25 years of leading us in prayerful music at Holy Family Parish - beginning when we were still St. Stanislaus. If you would like to show your appreciation of Jamie, you may send a card and/or gift in his name to Holy Family Parish office. Cards and gifts will be presented to him on Easter Sunday following the 10:30am Mass.

Bishop Byrne will celebrate a Mass and holy hour to pray for vocations in our diocese on Thursday March 25th. Mass is at 6:30pm with holy hour to follow. Confessions will be available. All are welcome to come and pray, especially men discerning a call to the priesthood. March 25th at 6:30 pm at the Cathedral in Springfield
"Look to Christ" Youth Day on March 20th in Westfield from 10AM to 2pm for grades 8-12. Come meet Bishop Byrne and other Catholic teens. There is no cost and lunch is included. Transportation could be arranged if enough kids want to participate. Please call the office.
Bishop Byrne invites Catholics throughout the Diocese of Springfield to a special holy hour for vocations following Holy Thursday Mass in your parish (April 1, 2021). Can you spend one hour with the Lord at the Altar of Repose praying for priests and for vocations to the priesthood? Join Bishop Byrne from 8pm-9pm at the Altar of Repose in your parish for this special hour of prayer for our priests and future priests of the Diocese.

New episode of Coffee with FJ this week! See link below.
Monday March 29, 2021: Chrism Mass, 7pm St. Michael's Cathedral in Springfield
Wednesday March 31, 2021: Adoration of the Blessed Sacrament 12pm-6pm; Confessions, 5pm
Thursday April 1, 2021: Mass of the Lord's Supper, 7pm with holy hour and adoration to follow at the altar of repose
Friday April 2, 2021: Good Friday Liturgy, 3pm; Stations of the Cross, 6pm
Saturday April 3, 2021: Blessing of Easter Food, 11am; Confessions, 11:30am; Easter Vigil Mass, 8pm
Sunday April 4, 2021: Masses at 8am and 10:30am
Support Holy Family

when you shop at Amazon with Amazon Smile!
Click the image below to set Holy Family as your charity!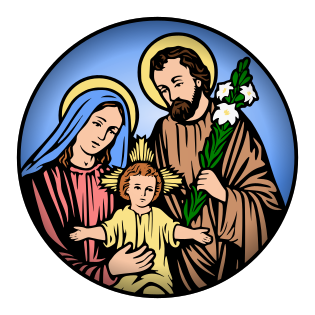 Holy Family Roman Catholic Church