As St. Joseph is celebrated as the Patron of the Universal Church, so also he is the patron of our families and especially fathers. In the litany of St. Joseph part of the prayer reads: St. Joseph, Ornament of Domestic Life, pray for us. An ornament is defined as an object used to make something look more attractive. Its purpose then is to adorn, to beautify, to dignify and make noble. One might think that Jesus and Mary bring all that to the table and more within the context of the Holy Family. Nevertheless, it is not complete without St. Joseph, without his role in God's plan of salvation. And how so? Here are a few ways:

He was faithful to God: St. Joseph was faithful to Mary and Jesus. He did not just do as God commanded, he laid down his life for his family in obedience to the Eternal Father. A true father must always be faithful to God the Father. Obedience to God the Father builds a character of virtue and integrity – which is passed on to children.
He was faithful to his spouse: Scripture does not say it, but it seems like St. Joseph trusted Mary. Faithfulness to one's spouse is built on trust. He cherished her, meaning he loved her with his whole heart. There was a love there that bound them together. Good fathers must love their wives, must trust them and cherish them.
He was a good teacher: Parents are the first and primary teachers of their children. St. Joseph taught Jesus a trade. He taught him his prayers. He taught him his place in Synagogue worship. Children are taught first by parents and will reflect that teaching in their lives. Good fathers must teach their children honesty, hard work, integrity, prayer, obedience, etc.
He was present to his family: In short, he stuck with them even though it was risky. He prayed with them, ate with them, worked with them … he was available to their needs. Good fathers must be around, must be present to the family.
He was willing to sacrifice for his family: He suffered the virginal conception of Mary, he made the long journey from Nazareth to Bethlehem, suffered homelessness, threats on the lives of his family. Good fathers suffer for their family in order to make them holy, dignified, beautiful, and noble.
These are just a few ways in which families, especially fathers, can look to St. Joseph for his help. The example he sets for us gives us an idea of how we too can make our families more complete, noble, dignified, beautiful and holy. Fathers, you must pay attention because he is telling you that this is your role, your duty in the life of your family. It is no wonder he is so esteemed by the Church and why we ought to turn to him for help in our daily lives, especially within our families. St. Joseph, pray for us!
Take & Eat: next meal will be March 20th. If you know someone to add to the list, please call the office.

Our Choir Director, Jamie Goodnow, is celebrating 25 years of leading us in prayerful music at Holy Family Parish - beginning when we were still St. Stanislaus. If you would like to show your appreciation of Jamie, you may send a card and/or gift in his name to Holy Family Parish office. Cards and gifts will be presented to him on Easter Sunday following the 10:30am Mass.

New episode of Coffee with FJ this week! See link below.
Bishop Byrne will celebrate a Mass and holy hour to pray for vocations in our diocese on Thursday March 25th. Mass is at 6:30pm with holy hour to follow. Confessions will be available. All are welcome to come and pray, especially men discerning a call to the priesthood. March 25th at 6:30 pm at the Cathedral in Springfield
"Look to Christ" Youth Day on March 20th in Westfield from 10AM to 2pm for grades 8-12. Come meet Bishop Byrne and other Catholic teens. There is no cost and lunch is included. Transportation could be arranged if enough kids want to participate. Please call the office.
Be sure to check out
our Lenten activities:
Tuesday: Scripture Study with Fr. Jon, 6:30pm in the parish hall. Our topic is the Gospel of Mark. Social distance seating and masks required.
Wednesday: Adoration of the Blessed Sacrament 12pm-6pm. Benediction at 6pm.
Friday: Stations of the Cross, 6pm in church.
Confessions: Wednesdays at 5pm; Saturdays at 3pm; or by appointment.
Support Holy Family

when you shop at Amazon with Amazon Smile!
Click the image below to set Holy Family as your charity!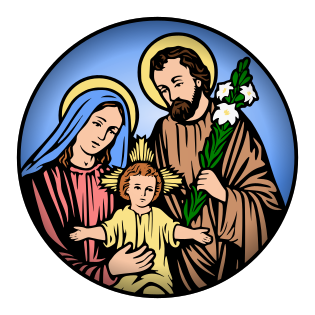 Holy Family Roman Catholic Church