The second thing that St. Joseph teaches us, along with Mary, is to develop a habit of prayer. St. Matthew tells us that Joseph was a righteous man. We can rightly assume then that he would have regularly participated in Synagogue worship, that he would have been familiar with the Scriptures, as well as his own family tree – that he was a descendant of King David and rightful heir to the throne of Israel – and that he was a man of prayer. He would have given Jesus an example of a man at prayer and the discipline of prayer. Children can absorb so much when they see their parents at prayer, especially fathers. As head of the family, it would have been Joseph's role to lead in this regard. Perhaps, however, it was Mary who taught him how to listen, how to ponder within His own heart to hear the voice of the Father.


Prayer within the family aids each member to order themselves to God, to humility, service and love – for God and one another. This is the main characteristic of the "domestic church." What does that mean? Church – ecclesia – is the gathered assembly, the community of believers at prayer and worship of God. The family resembles the church at prayer within their own home: a gathered community ordered toward God. One thing I think is important for families to remember, especially husbands and wives is this: the reason that Mary and Joseph were able to welcome life and the deeper mystery of the Incarnation of the Son of God is because they were people of prayer, because they were already "plugged in" to that which is holy – the Scriptures, worship and their own virtuous lives. Faith must be present in those who lead the family.


Further, the family at prayer is ordered toward Sunday, to the Holy Mass. Sunday, the Lord's Day, is sacred. It is meant to be set aside to honor God, to worship Him in the gathered assembly and also to set aside the day for rest, recreation and to honor Him. This is where we learn to love. Where we learn to listen to God's voice and follow His directive. We need Sunday because we need the Eucharist. We need God. And family life teaches us how to put into practice that which we receive from Him.
Live-Stream Masses: The 10:30am Sunday Mass continues to be live-streamed. You can watch on FCAT channel 12, FCAT YouTube Channel or on the Holy Family Facebook Page. Please spread the word for those unable to get to Mass in person.
On Saturday February 20, 2021 Take and Eat Ministry served baked chicken, green beans, potatoes and whoopie pies. The next meal is scheduled for Saturday March 20, 2021. If you know someone that needs a meal please contact the parish office.
Be sure to check one or more of our Lenten activities:
Tuesdays in Lent: Scripture Study with Fr. Jon, 6:30pm in the parish hall. Our topic is the Gospel of Mark. Social distance seating and masks required.
Wednesdays: Adoration of the Blessed Sacrament 12pm-6pm. Benediction at 6pm.
Fridays in Lent: Stations of the Cross, 6pm in church.
Confessions: Wednesdays at 5pm; Saturdays at 3pm; or by appointment.
Support Holy Family

when you shop at Amazon with Amazon Smile!
Click the image below to set Holy Family as your charity!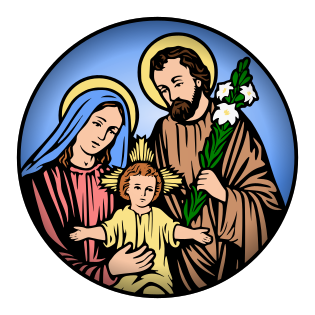 Holy Family Roman Catholic Church