Having declared a year dedicated to St. Joseph, Pope Francis offers us an opportunity to reflect not only on our relationship with him, his intercession in our lives, as well as the influence he has on our family life. St. Joseph not only teaches us about how ordinary men and women can listen to God and do His will but just how important that is in our families. St. Joseph leads by his example.


The first thing St. Joseph teaches us is to welcome life. Lets consider the situation he is under. Mary is pregnant with a child not his own. He has to make a decision. He can divorce her and subject her to the law – which would condemn her to death for supposed adultery. He decides to divorce her quietly, protecting her dignity. But why do that at all? Maybe he understands that this is a miracle, an act of God and feels unworthy to accept his role in God's plan. In the mean time, the Lord speaks to Joseph: "do not be afraid." God gives him the grace to overcome his own fear and he welcomes life.


We have lost the profound vision of the miracle that is life. Technology advancements has given us the power to produce life outside the womb, stop life before it begins, genetic screening with a view to abortion, etc. In many circumstances pregnancy is viewed as an inconvenience. Catholic families, following the example of St. Joseph, need not be afraid to welcome life. Families that receive children communicate the fundamental truth that each person is created in the image and likeness of God and as such has an inherent dignity endowed by the Creator. This is the primary vocation of every family. Every family, then, becomes a communion of persons built upon love for one another. As such, in their family life, which we call the domestic church, manifests the love of God to others.


May St. Joseph help restore our vision of life as a gift and that to welcome life is to welcome love, to welcome God into our personal world.
Rosary volunteers needed:
we are still looking for folks who are willing to lead the rosary 30 minutes before every Mass. Please contact Fr. Jon
Scripture study on the Gospel of Mark begins this Tuesday Feb 23 at 6:30 in the parish center.
Adoration is on Wednesdays from 12:00 to 6pm with Benediction at 6:00.
Confessions are held every Wednesday at 5pm and Saturday at 3pm or by appointment.
Stations of the Cross with Exposition of the Blessed Sacrament and Benediction will be held Friday at 6:00 pm in the church.
Support Holy Family

when you shop at Amazon with Amazon Smile!
Click the image below to set Holy Family as your charity!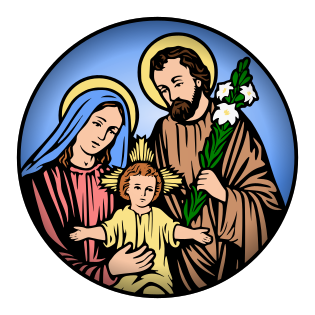 Holy Family Roman Catholic Church