I had an opportunity this past Sunday to reconnect with some parishioners from my days when I was assigned to Sacred Heart in Pittsfield. I had become friendly with a mom and her daughter (who at the time was roughly 5-6 years old!). Mom sang in the folk choir and her daughter would hang out in the sacristy and "help" me set up for Mass sometimes. It was an absolute joy to see them again. I couldn't believe how much this young girl has going on in her life, how grown up she has become - mature, well spoken, and funny. We had such a delightful visit! That evening I was at a friend's house for dinner and I was telling them about my visit and how we got to know each other.


Often we have trouble thinking about our faith in God as a relationship with a friend. We see Jesus on the Cross, we hear about what He said and did while He was with us on earth but because He is not with us in that manner now it can be difficult. Nevertheless, the truth is that Jesus is the Son of God, He is the Word made flesh, He walked among us as a human being. The centerpiece of the Catholic faith is the Person of Jesus Christ and our relationship with Him. Faith is a connection, a link or bond with the Lord. It is to share our lives with Him, to sit with Him in prayer to talk and to listen. As such we receive so much from Him, consolations and joys. So much so that it compels us to go out and share that experience with others. Just like I was able to share my joy of reconnecting with this family so we ought to be able to share with others the ups and downs, the joys and sorrows of our relationship with Christ. For we cannot forget, He is still among us today. He still loves us with unconditional love.


Maybe it's time to connect, form a deeper bond, and start something new.
Second Collection: There will be a second collection this weekend to support the Seminarian Education Fund. All donations go to defray the cost of seminary tuition, books, school supplies and other needs of seminarians.
Year End Statements: If you would like a copy of your charitable giving to Holy Family Parish or St. Mark's, please call the office and a statement will be mailed to you.
Mark your calendars for an early St Patrick's Day gathering featuring live Irish music ... appetizers and drinks will be available. Saturday March 5, 2022 following the 4pm Mass. Live music will take place from 6-8pm
Dollars for Babies: Thank you for your support for the Alternatives Pregnancy Center to help women and families in crisis pregnancy situations. There is still time to donate. If you are able please take a bottle, fill it with coins/cash and return to the office by February 27, 2022.
LOST AND FOUND: We have a pair of Rayban Sunglasses in the office as well as some gloves that have been found... if these items belong to you, please come and claim them.
Church Flowers: If you would like to take home a poinsetta, please feel free to do so - please leave the gold pot/plate and just take the flower.
There is no new Coffee with FJ episode.
See the link to previous episodes below!
Support Holy Family

when you shop at Amazon with Amazon Smile!
Click the image below to set Holy Family as your charity!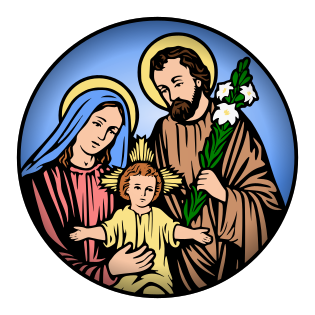 Holy Family Roman Catholic Church