Recently I was challenged by a parishioner to speak more about the Sign of Peace at Mass - more specifically about why we are not doing it. As you may recall I did write about this back in September. I made a few key points that I want to revisit:


Peace is not simply the absence of fear or lack of conflict. The Peace of Christ is a "calmness of soul"; a tranquility even in the midst of difficulty and hardship.
The Sign of Peace at Mass is not an invitation to chaos, chatter, or irreverence.
The Sign of Peace is a gesture of reconciliation and therefore it holds a very solemn place within the context of Mass
The Sign of Peace is optional at Mass and left to the discretion of the pastor/celebrant.
Having said that, why still have we not brought it back? I'm hesitant, to be honest. I find that we can get carried away and turn a very sacred moment into disorder and can seem irreverent. You see, what follows this ritual is our reception of Holy Communion - the most sacred act in which a Catholic can engage. At times, the sign of peace "steals" the tone of reverence away from the most sacred part of the Mass itself. The question that is posed then, is how do we acknowledge our fellowship with one another if we do not "shake hands"? Simply put - we are already here. Just by being gathered together at Mass we are already united under the common bond of faith. Our fellowship is already expressed in our presence and our worship, together as a community. While a gesture to one's neighbor before Mass or at the sign of peace may enhance what is already present but our attention - together as a community of believers - must remain fixed and focused on the Lord. Symbolically we are walking arm in arm together as we worship, pray, recite the prayers and line up for Holy Communion.


With all of this in mind, knowing what we now know about the nature of Christ's peace and the meaning of this ritual - if we were to reinstate it ... can we keep the moment reverent and solemn? I don't mean to say joyless and without a smile but in a way that still captures the tone of the Mass? In a way that moves away from chatter and disorder - in a way that says, "lets go to Christ, together"?
Office Closed: The Parish Office will be closing early on Wednesday November 17th and 24th and will be closed on Thursday November 18th and 25th.
All Souls: All Souls Envelopes may still be turned in via the collection at any time during this month.
Year of the Eucharist: Join Bishop Byrne, many priests and faithful from all over the Diocese of Springfield for the official kick-off of the Year of the Eucharist, Sunday November 21, 2021 at 4pm at St. Michael's Cathedral in Springfield - Mass and Eucharistic Procession!
Confessions are offered on Wednesdays at 5pm; Saturdays at 3pm and by appointment.
Adoration of the Blessed Sacrament Wednesdays 12pm-6pm concluding with Benediction at 6pm.
Thanksgiving Day Mass will be on Thursday November 25th at 9am
Take and Eat: There will be an informational meeting for the Take and Eat Ministry on Tuesday November 16th at 7pm in the parish hall. Current volunteers and anyone who would like to get involved are asked to attend. For additional information please contact Deacon Rod Patten.
Cash Raffle: Please return your sold tickets to the office no later than the week of November 21st. The drawing will be held on Saturday November 28th.
Traveling Chalice: We are in need of folks to volunteer and sign up for the Traveling Chalice Ministry that prays for an increase of vocations to the priesthood. Sign ups are located at the doors of the church.
There is no new Coffee with FJ, but if you didn't catch the last episode, see below:

Support Holy Family

when you shop at Amazon with Amazon Smile!
Click the image below to set Holy Family as your charity!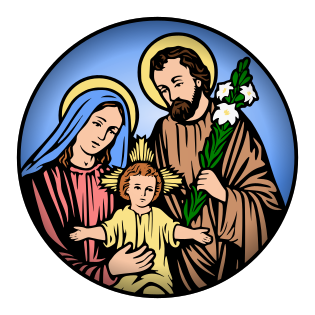 Holy Family Roman Catholic Church