I wanted to use this opportunity to mention a few changes in the Mass that you will see this Lent.


I have spoken already on the changes for the distribution of ashes on Ash Wednesday. This year, due to the pandemic and limiting our contact with one another, we will adopt the European custom of sprinkling ashes on the top of the head, rather than apply to the forehead in the shape of a cross. Further, the formula "repent and believe in Gospel" or "remember you are dust and to dust you shall return" will be said only once to the entire congregation and then the distribution of ashes will take place.


The second change will be in the posture of the Mass. I wrote last week that I will begin to face the tabernacle for Mass at one of the Sunday Masses on a rotating basis through Lent and Easter. I have already written much on this subject as to reasons for such a change.


Both of these changes have a similar significance. While we could legitimately say that the distribution of ashes is due to the pandemic, it could be viewed in another way. Each year, when our foreheads are marked, we have an outward display of ashes that is indicative of our faith. With all of us at various Masses facing the tabernacle, with ashes only sprinkled on our heads we must be more intently focused on the Lord. Our faith is a faith lived in an outwardly manner, yet only in such a way that manifests that which is in our hearts. This year, both of these changes place an emphasis on our inner spiritual journey, on our inner focused attention on our own relationship with Christ. Isn't this the goal of Lent? That we draw nearer to Christ in heart, mind, body and soul?


Rosary volunteers needed: Beginning in Lent, we are looking for folks who are willing to lead the rosary 30 minutes before every Mass. Please contact Fr. Jon if interested.
The parish office will be closed Monday February 15, 2021 in observance of President's Day.
There is a second collection this weekend, February 14-15, 2021, for the Seminarian Education fund.
Confessions are held every Wednesday at 5pm and Saturday at 3pm or by appointment.
CCD: grades 1-6 will meet in person on Sunday February 21, 2021 from 9:30am-10:15am.
Ash Wednesday is February 17, 2021. Masses will be at 8am, 12:05pm, and 6:30pm. There will be adoration, confession and benediction on this day.
Take and Eat: The next meal will be served on Saturday February 20, 2021. If you know someone who needs a hot meal please contact the office.
Church missals are still available for purchase in the office for $15/book.
Support Holy Family

when you shop at Amazon with Amazon Smile!
Click the image below to set Holy Family as your charity!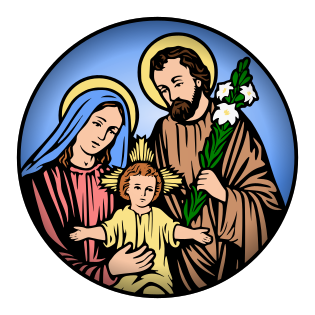 Holy Family Roman Catholic Church