What an absolute joy to be able to hold our SummerFest Parish Picnic!! I was so pleased to see so many folks come out for food, entertainment, and just good fun!


After more than a year of cancellations and disappointments we were finally able to come together, not just for fun, but to really give thanks to Almighty God for the great gift that is our parish family. This is precisely what SummerFest is all about - celebrating our community.


I want to take a moment to offer a word of thanks to the committee behind the event. This group of dedicated individuals love our parish, love our community and truly love the Lord. Thank you to: Jayne and Michael Trosin, TJ and Catherine Conroy, Evelyn Kawecki, Sue Jordan, Chrissy Graves, and finally Ted and Suzanne Cycz. Your efforts not only made this event possible but also a huge success! Thank you!


I want to also thank all of you who helped set up, clean up, and volunteered during the day. Again, it is this community that makes the parish great and to see you all come together is indeed a great joy. I want to also thank the Knights of Columbus for handling all the cooking. They are a dedicated group of men who do a lot for our parish and the wider community. Thank you Knights!


This event is just one example of what can happen when we come together as a parish family. It is truly inspiring. Perhaps you may be thinking about some other ways to bring folks together, to reach more people, or to just get more involved yourself. Please do not hesitate to stop in the office, give me a call or email. I would be happy to chat with you. Once again, my utmost gratitude to the SummerFest committee and to all of our dedicated volunteers ... Thank you!! I am truly blessed to be your pastor!
Join with members of our parish community on the First Friday of each month at 6pm, starting September 3rd (today!) as we pray a rosary for our nation. All are welcome to join since we all need prayer and should ask God to spare our world of more trials. God bless you!
Join us on Sunday September 5th following the 8am and 10:30am Masses for coffee, donuts, and fellowship!
Fr. Jon and Fr. Frank invite the men of the parish for a "Men's Night BBQ" on Thursday September 16th at the rectory. Bring your own drinks, food will be provided. Please call the office for more information and to RSVP.
The next altar server training will be held on Wednesday, September 15 at 7pm. Adults and youth are welcome to sign up! We are in great need of new servers!
Fr. Frank's next presentation will take place on Thursday September 23, 2021. Join him for a talk on the relationship between Islam and Catholicism.
Adoration of the Blessed Sacrament on Wednesdays 12pm, concluding with Benediction at 6pm.
Confessions are held on Wednesdays at 5pm; Saturdays at 3pm and by appointment with Fr. Jon or Fr. Frank.
There is no new Coffee with FJ, but if you didn't catch the last episode, see below:

Support Holy Family

when you shop at Amazon with Amazon Smile!
Click the image below to set Holy Family as your charity!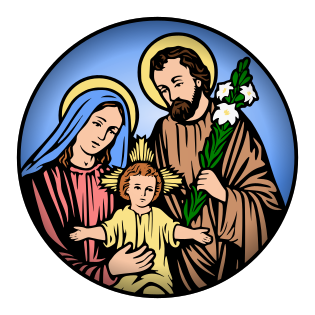 Holy Family Roman Catholic Church