Over the last several years I can only remember a handful of times when I did not travel to Washington, DC for the annual March for Life. This is one of those years, sadly because of COVID. The march has been an annual event since the Supreme Court ruling Roe vs. Wade legalizing abortion in our country, nearly 40 years ago.


Recently Speaker of the House, Nancy Pelosi called pro-life voters "sellouts" of democracy in America. Responding to this statement, Archbishop Salvatore Cordileone reminds us that Mrs. Pelosi (and other high level government officials who are Catholic) does not speak for the Catholic Church. In fact, she, and our new president and his vice president, stand in direct conflict with Church teaching that consistently upholds the dignity and sanctity of human life as the preeminent issue above all others - born and unborn (teachings that have been upheld since the birthday of the Church). "Preeminent", the Archbishop said, doesn't mean it is the only issue; nevertheless, most Catholics who vote on the issue of abortion work diligently in the service of all, with compassion and understanding.


This past week, Archbishop Jose Gomez issued a statement on the occasion of the inauguration of Joseph Biden as the 46th President of the United States. He reminds the new president that as Catholics our priority is to advance Christ's mission to build up the human person, the common good of all, which has a deep concern for religious freedom and the dignity of the human person in all stages of life - from conception to natural death.


I was particularly moved by Bishop Byrne's remarks in his homily at the Pro-Life Mass on Friday Jan 22nd. The Bishop noted that even those who advocate for our own destruction are themselves children of God. It does us no good to hate. Our first task as people for life is to be holy ourselves, to embrace love, to go up the mountain with Jesus in order to put into practice His program of love. Love must change hearts, not hate, not finger-pointing or name-calling. Our work to stamp out abortion in this country, he said, depends on the holiness of those who advocate for love.


Our first priority, therefore, is to learn to love God and learn to love ourselves in order that we may learn to love others. This is Jesus' program, His mission and His mission of love changes hearts. May love always triumph!
Rosary Around Deerfield: The Knights of John Paul II - a group of Catholic men dedicated to reclaiming our families and our towns for Christ and His Church - will be meeting in the parking lot on Saturday February 6, 2021 at 9am, to walk the town and pray the rosary. Any interested men of our parish who would like to join this effort please meet us - February 6th at 9am. Contact Fr. Jon for more information.
A new episode of Coffee with FJ is available - see the link below. If you have any questions or topics you would like addressed here, please email the office.
Adoration of the Blessed Sacrament: Wednesdays 12pm-6pm; Benediction at 6pm
All CCD classes will meet Sunday February 7th. Grades 2-6 from 9:30-10:15am. Grades 7-10 6pm-7:30pm.
Blessing of Candles: if you have candles, used for prayer in your homes, you would like blessed please bring to Mass this weekend and give to Fr Jon.
Rosary volunteers needed: Beginning in Lent, we are looking for folks who are willing to lead the rosary 30 minutes before every Mass. Please contact Fr. Jon if interested.
Confession: Wednesdays 5pm-5:45pm; Saturday 3pm-3:45pm or by appointment.
Church missals are still available for purchase in the office for $15/book.
Support Holy Family

when you shop at Amazon with Amazon Smile!
Click the image below to set Holy Family as your charity!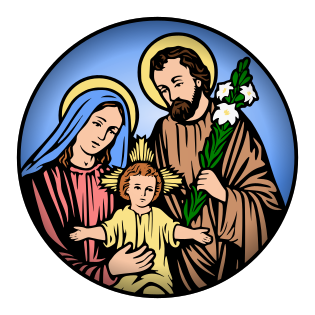 Holy Family Roman Catholic Church