It is finally here ... the end of Lent! Holy Week has begun. In churches and parishes around the world, this week is celebrated in many ways with various devotions and customs. All of which are to aid us in entering more deeply into the Passion, Death and Resurrection of Christ - otherwise known as the Paschal Mystery. For example, the covering of statues, crosses and images in the church on the 5th Sunday of Lent, symbolize the darkness of the crucifixion and the empty feeling of abandonment - not that God abandoned us, but how we abandon Him, via our sins. Often these coverings are red or purple. Red symbolizes the blood of martyrdom, purple symbolizes repentance and penance (and in the old rite, black was used to veil images rather than purple). And beginning after the Holy Thursday Mass, the Eucharist is removed and the altar is stripped - that feeling of emptiness becomes a stark reality of the darkness of the passion and a bleak reminder that it is our sins that brought Christ to this moment.


You might find it interesting that Holy Week observances began in Jerusalem in the earliest days of the Church. Pilgrims would gather in order to reenact the events of Christ's passion leading up to the Resurrection. Egeria, an early Catholic pilgrim recorded these events between 381-385 AD - showing that they were already well established even then.


Thus, the events and liturgies of Holy Week are deeply rooted in our Church's Tradition. Since the beginning, they have helped us enter more deeply into the mystery of Christ's Paschal Sacrifice. These are the "high holy days" in our liturgical calendar. They remind us of why we are Catholic, of our need for Christ and His mercy in our lives ... they draw us into a deeper appreciation for our traditions, devotions, and prayers. Most of all however, these liturgies draw us into a deeper love for God. Therefore, friends, do not miss the opportunity that we have to participate in these liturgies. Remember last year when it was all taken away and were not permitted to attend?? This is your chance not to miss out ever again!
Our Choir Director, Jamie Goodnow, is celebrating 25 years of leading us in prayerful music at Holy Family Parish - beginning when we were still St. Stanislaus. If you would like to show your appreciation of Jamie, you may send a card and/or gift in his name to Holy Family Parish office. Cards and gifts will be presented to him on Easter Sunday following the 10:30am Mass.

Bishop Byrne invites Catholics throughout the Diocese of Springfield to a special holy hour for vocations following Holy Thursday Mass in your parish (April 1, 2021). Can you spend one hour with the Lord at the Altar of Repose praying for priests and for vocations to the priesthood? Join Bishop Byrne from 8pm-9pm at the Altar of Repose in your parish for this special hour of prayer for our priests and future priests of the Diocese.
Lenten Confessions will be held on Sunday March 28th from 4pm - 5pm. There is no service. Several priests will be in church to hear confessions. There will also be a drive-up option.

Another successful Take and Eat meal was produced and delivered on Saturday March 20th. We had Perkarski Ham, homemade Macaroni and Cheese (from Ciesluk's Market), cards created by our religious education students, homemade chocolate lollipops and beautiful shamrock sugar cookies from two talented parishioners in addition to our dessert. Also a request from the Frontier Regional National Honor Society is looking to volunteer yard clean ups for area shut ins as well. Again a huge thank you to all !!!!! Next meal is on April 17th, contact the office if you know someone who needs a hot meal.
New episode of Coffee with FJ this week! See link below.
Monday March 29: Chrism Mass, 7pm St. Michael's Cathedral in Springfield
Tuesday March 30th: Mass, 8am
Wednesday March 31: Adoration of the Blessed Sacrament 12pm-6pm; Benediction at 6pm; Confessions, 5pm
Thursday April 1: Mass of the Lord's Supper 7pm; Adoration of the Blessed Sacrament following Mass with a special holy for vocations 8pm-9pm. Adoration will conclude at 11pm.
Friday April 2: Good Friday Liturgy, 3pm; Stations of the Cross, 6pm
Saturday April 3: Blessing of Easter Food, 11am; Confessions, 11:30am; Easter Vigil Mass, 8pm
Sunday April 4: Masses at 8am and 10:30am
Support Holy Family

when you shop at Amazon with Amazon Smile!
Click the image below to set Holy Family as your charity!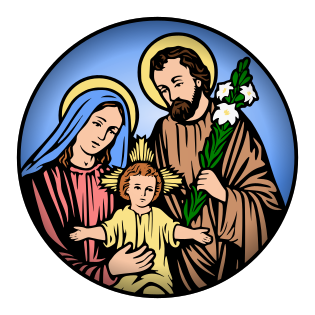 Holy Family Roman Catholic Church